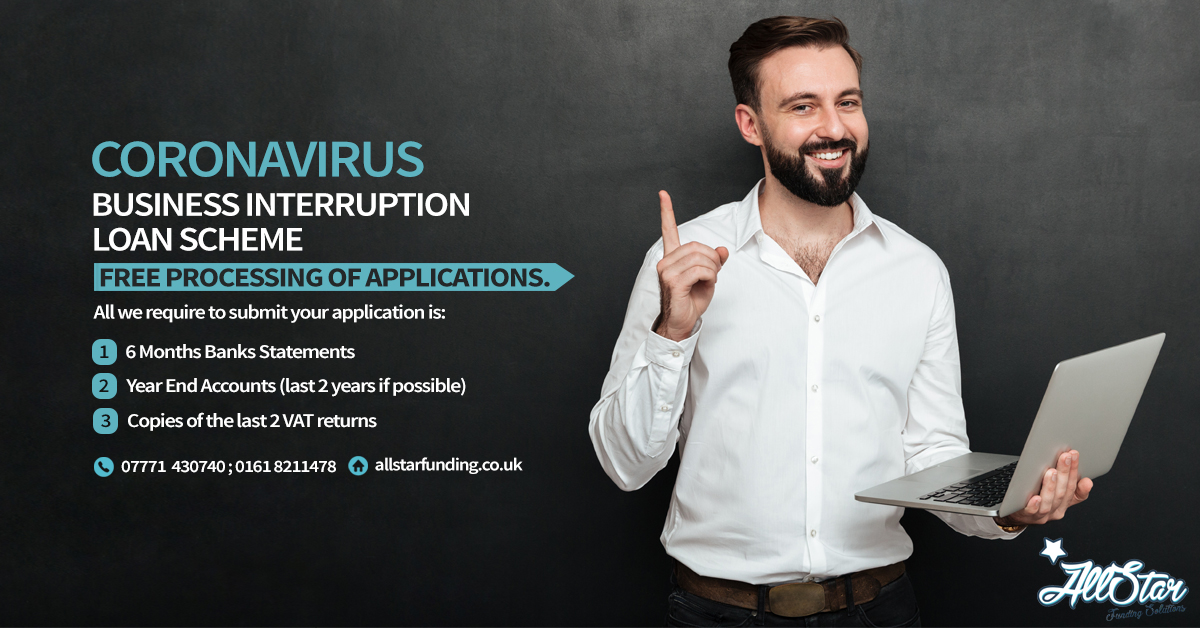 Throughout 2020 and continuing into 2021 many small businesses have been affected by coronavirus. With forced closures, national lockdowns and people spending less, many businesses have seen their income decline over recent months. To offer a level of support, the government announced the Coronavirus Business Interruption Loan Scheme, to help support those businesses that have been affected by this. They also recently announced that the date for applying had been extended until the end of March 2021, to allow more businesses to apply.
Who is Eligible?
In order to apply for a loan from £50,000 – £5,000,000 your business must:
–              Be based in the UK
–              Have an annual turnover of between £200k and £45million
–              Be able to show your business would be successful if it wasn't for the pandemic
–              Not be in certain sectors (banks insurers, public-sector bodies and state-funded schools)
How To Apply For The Coronavirus Business Interruption Loan Scheme
If you wish to apply for a CBILS loan, first you'll need to decide which route you wish to go down:
Up to 3 years invoice finance facilities
Up to 6 years, for loans and asset finance facilities
To start the application process we will need to reach out to one of the 117 lenders that are taking part in the scheme.
The first questions they'll ask you are how much you would like to borrow, what you intend to use the money for and how long you would like to repay it back.
You'll then need to show proof that you'll be able to afford to repay the loan back. This could be via Year End accounts, cash flow forecast, or a copy of your business plan.
The documents needed will depend on the lender and something that they'll go through with you as part of the process. They're also responsible for checking the loan is suitable for a business purpose, affordable and right for your current circumstances.
Is A Coronavirus Business Interruption Loan The Right Thing For My Business?
Each business is different and has been affected differently, so the matter of it being the right thing for your business is a personal decision.
If you'd like some advice on whether a loan is the right thing for you or what other type of financial support is available, get in touch with All Star Funding.
We can even talk you through what support is available if you have previously had funding through something such as a Bounce Back Loan.
Applying With All Star Funding
We have been working hard throughout the pandemic to ensure that businesses are able to access any funding and help that they're entitled to. We'd love to help you get access to a Coronavirus Business Interruption Scheme Loan. We'll need from you
–              Bank Statements from 1st November 2019 to present
–              A copy of your Year End Accounts
–              A completed application form
Get in touch – UK Businesses only
Please click below or call 0161 8211478 to speak with one of our specialists.
Finally as members of the Financial Intermediary and Broker Association you can be assured of a great service.

Additionally some of our specialist areas of Finance are:
Asset Based Lending • Asset Finance • Business Loans • Cashflow Finance • Factoring • Invoice Discounting • Single Invoice Finance • Trade Finance • Stock Finance • Credit Insurance
www.allstarfunding.co.uk
Whenever you want to make something in your shop mobile, you need to know what caster is right for you. Swivel and rigid casters are the two primary styles. You will want to know a few facts before deciding on the style or combination that is best for you. Here are the primary differences and normal wheel configurations.
Rigid
These are fixed in place and can not turn. These are perfect for moving things in straight lines, such as forward and backward. While you can't steer these, they bear a lot of weight. Each wheel can bear several tons. They are perfect if you plan on moving heavy loads over long but straight distances.
Swivel
When you have to navigate equipment or tables through tight spaces, swivel casters are the way to go. They spin when in motion, so you can move and turn your equipment easily, and they are often equipped with a locking mechanism to increase your shop's safety. These casters do not hold as much weight as rigid wheels. It can also take more power to maneuver these wheels. This is because it can be difficult to get the wheels moving together. Additionally, swivel wheels are not good for long distances. This is because they are not good at moving in straight lines.
4-Wheel Non-Tilt
This configuration has four swivel wheels on your equipment. It lets you change directions, so you are not limited to straight lines. However, it is not good for straight lines over long distances. You can make this option better for long distances by putting swivel locks on the casters. This will let you make the occasional long-distance trip over a straight line easier.
4-Wheel Steer
This is a prevalent configuration. It has swivel casters on one side and two rigid ones on the other. It is easy to turn and can move in straight lines. However, it takes a lot of power to make turns. This is because you will have to turn the equipment on its rigid wheels.
Wagon
This is a combination of two rigid wheels on one end, and an axle joined pair on the other. This is great for heavy objects. However, it isn't easy to move equipment with this configuration, so a great option is a power source to move them.
It is best if you understand the caster and configuration options before purchasing yours. This means considering how you will use the equipment and which options are best for you.
Logistics is the movement of goods and materials between yourself, your suppliers and your customers and is a vital part of your supply chain. Setting this movement up correctly can be vital for the long-term success of your startup. This means looking at logistics priorities, planning the details and designing internal processes for the efficient movement of materials into and products out of your company.
Set Your Priorities
Business owners and consumers have the same priorities in logistics, fast and cheap. Unfortunately, speed and cost are often reflective of each other in that the faster the delivery is, the more expensive the logistics are. You need to find a balance that works best for your business. Using a 24/7 pick up and delivery service Leesburg FL company can help with that because you can get fast, local or long-distance, deliveries on your timeframe. This flexibility allows for both regular deliveries and sudden needs.
Plan the Details
The logistical details you need to plan include the lead time of your suppliers, customer demand and your internal lead times. The better you know these details, the more effectively you can plan for them and have items on hand to meet customer expectations.
Design Internal Processes
When you can effectively plan for both demand and production, you can give yourself enough lead time to opt for slower freight delivery methods and find ways to streamline internal processes to speed up production. You will also want to streamline your order fulfillment processes to get products out the door and onto the delivery truck more quickly.
Customer satisfaction and business longevity are excellent reasons to design the right logistics for your company from the beginning. This means knowing what your priorities are in terms of cost and speed for your supplies as well as the delivery of your finished goods. It also means both demand planning and production planning to give yourself enough time to move the materials through your internal processes and to the customer.
If you want to improve your company's bottom line, increasing office productivity is a great place to start. The more productive your employees are, the more profitable the company will be. Here are three things you can do to make sure everyone in the office stays as productive as possible.
Maximize the Time Spent Working
Obviously, your employees will be more productive when they have time to spend working on their actual jobs. You may not think simple tasks such as cleaning and organizing office supplies will have an effect on your bottom line, but when your workers are responsible for these tasks in addition to their jobs, they have less time to do the work that truly matters. Hiring office cleaning companies Miramar Beach FL can free up your employees' time so they can be more productive.
Schedule Breaks
Your workers will need several breaks throughout the day, but instead of letting everyone take a few minutes at the same time, stagger individual breaks throughout the day so workers aren't constantly starting and stopping tasks. Staggering breaks allows workers to keep projects moving constantly.
Keep the Office Fully Staffed
If you're trying to cut costs, you may be tempted to short staff the office. It may seem like a good idea to have several employees work together to complete the job assignments of someone who recently left the company so you don't have to pay for a replacement, but this solution is only feasible short-term. People can't be productive when they are trying to fill multiple positions so it is a better idea to hire qualified candidates to fill vacant positions so the company is fully staffed.
Productivity is key to helping your office run smoothly. Use these three tips to give your employees the resources they need to improve productivity.
Nowadays, many people are craving for freedom to do according to their wishes. They might want to have the money to buy blue chip stocks and invest. They might want to find that happiness and freedom that they hear business owners have. There might be some misconceptions about what owning a business consists of. These are some of the common misconceptions about starting your own business.
Business owners are their boss
There is a belief that business owners are their bosses. Most people believe that when you are an entrepreneur, you do not answer to anyone. This is not true since they are obligated to respond to investors who finance them. They also answer their employees to keep them satisfied with the business benefit. All entrepreneurs must answer to their customers, as they are the most critical asset of the business. For the business to have a financial float, customers must be present. In any business, the customer's should be well addressed and ensure they are provided with the right satisfaction.
Entrepreneurs can set their salaries
Business existence is more important than the owner's desires and needs; therefore, if the business asks for it, the business owner must sacrifice on its behalf. The company must be able to pay its bills and give room for its growth. The owner's salary comes after settling all bills, and business demands are met; thus, it may be less than the expected amount. The business owner's salary mostly varies on economic force and fickle customer decisions far from your control.
Entrepreneurship calls for more private time
It's correct that entrepreneurial accomplishment gives owner's freedom to dictate their working hours and spend extra time doing what they want, although most people think entrepreneurs can work when they want and for how long. However, an entrepreneur's personal time is mostly work related. The truth about owning a business is that the business owns you rather than owning it as the owner is dedicated to the business to ensure its survival and success. Entrepreneurs are obsessed with their business, thus lacking some personal time, as they spend the most time working towards the business's success.
Everybody can be the owner of a business
Anybody can own his or her own business, but the truth is that not everybody should pursue entrepreneurship, but not everyone can be a victorious entrepreneur. Starting a business has nothing to do with your experience and skills. However, it has everything to do with your dedication and willingness to prosper. Due to society's pressure, it is inspiring to start your own business where it is harmful since not everyone can be successful. Although many people have the required skills and experience in their relevant fields, most are not exposed to the risky entrepreneurial journey.
This misconception comes typically together with the statement that all you need to be successful is a good idea. Therefore, most employees seeing how their bosses charge the customers tend to think they must be making a fortune out of it. They only realize it when they establish their own business and notice the many expenses awaiting the revenue. Entrepreneurship seems to be a money-making process if the involved variables lead to success. For entrepreneurs to enjoy their work's fortunes, it takes a lot of commitments in terms of time and effort. Real entrepreneurs are people who recognize imperfections in the market, make business plans, and implement them. However, for entrepreneurs to succeed, they must add value to other people's lives by satisfying their needs.
Some peoples believe that entrepreneurs are born with the traits. Some people are born with features that lead to good public speaking or a natural tendency for business planning. However, natural features need practice to attain the required skills to be a fortunate entrepreneur. The truth is that entrepreneurs are not born; instead they are groomed and honed through determination and hard work. Therefore, great entrepreneurs are not made through nature; they are made through nurture.
There are shortcuts and tricks for everything you want to learn, but despite that, learning the basics is essential. After you've done that, these simple tricks will maybe serve as something you ignored or overlooked. There are various ways you can benefit from forex trading, and while some of them are so simple, we don't even think about them, others are unusual but rather beneficial. Here are some simple tricks that will help you benefit from forex trading.
Jump onto the Twitter wagon
Many brokers (especially crypto) are active Twitter users and don't shy away from telling it how it is. From realistic comments to in-depth charts and analysis, you can find a lot from merely following their accounts. You can easily google top 10 brokers on Twitter, and a list with reviews will pop up, where you can decide for yourself who suits your needs the best. Many of them have podcasts, youtube videos and even short courses where you can learn more, while also following what's up every day. It's an excellent "shortcut" if you don't want to spend too much time sorting out news, but instead, go straight to the point and find what you need.
Try different strategies
This is not something we would usually recommend, but having one strategy for too long can become dull without changing anything. Even if it works perfectly, getting out of your comfort zone can give you a lot of insight, and it can even change the way you trade. Of course, you should always stick to "don't invest more than you can lose", whatever strategy you try, and consult with your broker beforehand.
Heard about exotic currency pairs?
Traders who rely on currency pairs will mostly stick to the most popular currency pairs such as EUR/USD, GBP/USD, and similar. If you are a novice, exotic currency pairs are probably new to you, because exotic trading currencies require a deep understanding of the market, especially the relationship between two countries that currencies belong to. That doesn't mean you can't try it out! USD/ZAR (American Dollar and South African Rand), can be the perfect example of this. When the United States decides to withdraw their capital from South Africa because of political reasons, this means ZAR will plummet. Remember, in a pair; the second currency determines the first (base) price. This means USD will be more valuable. Exotic currencies are tied to experienced traders because they have more patience regarding following the news, charts, connecting the dots between social events and economy. You can also choose an exotic currency pair, and try to choose two you are interested in, so your research doesn't become a chore. You can benefit a lot from Exotic pairs, once you grasp how it's working.
CFD contracts
CFDs (or Contracts for Difference) are useful if you don't have large amounts of money to trade. These contracts are usually made between you and a broker, where you don't own any asset, but you can profit from their price movement. CFDs can bring you a high reward, but they come with significant risk as well. That's why you should check with yourself if you are an impulsive person because if you are, maybe this won't work for you but it will for somebody else. While you don't own any commodity, stock or asset, you have to have enough money to support the trade otherwise you're out. What is very beneficial is that CFD contracts don't have expiration dates meaning you can wait until you get a shot for a long-term position. If you are interested in CFDs, do thorough research on them before trading this way.
In conclusion
Get out of your comfort zone but don't get too comfortable with how much money you are putting into one trade. Consult with your broker, and be smart about your trades. Don't take the fun out of it, but remember your goals and you can easily benefit from something you didn't consider before!
Elevators are a popular way to provide access to different floors in your building. They are crucial for ensuring ADA compliance. However, there are strict requirements these machines must meet.
Landing
Hall signals are required at each landing. Their purpose is to show where the elevator is located. They can either be vertical or side by side. However, they must be visible from wherever the call button is located. Audible signals must accompany them. These must adhere to specific frequency and signal level requirements.
Additionally, the landing must contain call buttons that are all reachable. These must be operable. Additionally, the up button must be above the down arrow. They must also provide a visual indication of if a call is registered and answered. They are allowed to be flush or raised.
Lastly, the landing must have level signs placed four to five feet off the ground. These must include both characters and braille that indicate what level visitors are on. On the main level, a star and the braille characters for "main" must be present.
Door
The doors must remain open for at least three seconds. Their reopening device cannot require physical contact. The device must remain open for at least twenty seconds if an obstruction is continuously detected, but it can close sooner if there is none. The doors do not have to fully reopen if an obstruction is detected.
Car
A major component of elevator compliance is car dimensions. There must be adequate space to turn a wheelchair around with the doors closed to meet ADA standards. Other car requirements include a self-leveling feature, compliant floor surfaces, proper illumination, and a minimal gap between the edge of the car and the landing.
These machines are a popular way to travel throughout the floors in a building. Therefore, landings, doors, and cars all must meet the appropriate standards.
Over the years the cryptocurrency trading changed from a niche thing limited only for the initiated into the globally popular asset. With its growing popularity came the need for divergent tools and trading options. And that's where CFDs (contracts for difference) turn out to be practical. For decades the CfDs were the favourite trading instruments no matter the product: from soybeans to gold and cryptocurrencies as we see today.
How CFDs fit cryptocurrency trading
CFDs are the type of future contracts where you don't need to deal with the asset you want to trade with. You don't need to go out and search to buy coins in a crypto exchange. It would be time-consuming.  You don't need to purchase bitcoin with your fiat money to start trading. Contracts for difference enable you to predict the value of the cryptocurrency, and if your prediction turns out to be right, you make profits. With an exponential interest in crypto assets, these days many brokerage companies are offering CDFs to trade digital assets. This implies that if you intend to trade crypto assets, you will easily find the crypto broker with good trading terms and many opportunities.
How to find a good crypto broker?
There are many websites and trading platforms to choose from. The competition is enormous, and they are giving their best to enhance the trading experience on their platforms and to offer the most trading instruments as possible. Going for the excellent and reliable crypto broker at the beginning of your trading adventure is a critical point. So when picking the right one, follow the criteria we are writing about within the next lines.
Always choose a regulated crypto broker
The concurrence is significant, and among all those trading companies and brokers, there are many those without the license. Before you go for a particular crypto broker, be sure if it complies with the regulations. If you are in Europe, the CySEC licence is required from the broker to be regulated. In Australia, it operates the ASIC, and when it comes to the UK, it's FCA. When the broker is working under the license, it shields you from any kinds of unethical activity that may occur during the trading.
Look for the best transaction fees
Yes, fees and commission are annoying, but there is no way to escape them since that's the way all these brokerage companies make money. Every crypto broker has to have at least two types of fees. The first is called the spread, which is the difference between the bid and the asking price. The second fee is an overnight fee, and it is charged when you hold an overnight position. Therefore, if you intend to keep the position over several days or even months, the best option is to find a crypto broker that doesn't charge overnight fees. Crypto broker lists are good sources of information about brokers and their offerings. Be sure to check them out as well as broker reviews prior to choosing the broker.
Trading platforms
For the optimal trading experience, the trading platform your crypto broker offers you need to be user-friendly, simple to navigate and to have tools for fundamental and technical analysis. Some platforms even enable you to access social trading. This type of trading is also called copy trading, where you can get the most prominent trading insights from the experienced and the most successful crypto traders.
Training resources and demo account
Go for a crypto broker that would give you the opportunity of trading without risking real money. This is viable through a crypto trading platform that offers to trade on a demo account. With a crypto trading demo account you can simulate the trading and to check out if the trading at the specific trader suits you or you will trade cryptocurrency elsewhere. Trading in this way is excellent for understanding the CFDs trading. It's also good for seeing its perks and drawbacks and finally to see if this kind of trading fits you.
Customer support
Before choosing the platform as a broker, check out their customer support to see if they are agile and efficient and if they respond to your queries in your native language. The right answer at the right moment can spare you a lot of adversities.
Final Thoughts
When you are just entering the crypto market, it may seem to you that it's too overwhelming and that it's like big muddy water full of crocodiles. The truth is somewhere in the middle. A bunch of scammers are operating in today's crypto market, but there are still more good crypto brokers that will offer you trading experience with excellent trading conditions and opportunities to make a profit from crypto trading.
Medical bills are the leading cause of bankruptcy in America. An article in the British Medical Journal shows that 40% of bankruptcies in the United States are from medical bills. That percentage is speculated to be as high as 60%.
No Health Insurance
While job loss can lead to a need for health insurance when COBRA runs out, you may be surprised to learn that most people without insurance have jobs. Of the nearly 28 million working-age Americans who have no health insurance, most are in families where there is at least one full-time worker or part-time worker. People without insurance often go without medical care and important physicals or cancer prevention screenings. When a medical visit is unavoidable, extremely high provider bills can lead to high debt.
High Medical Costs
An accident that requires an overnight hospital stay can cost $2,000 per day. The cost of a heart valve replacement surgery, on average, is $170,000 without insurance. That's the cost of some people's homes. Without medical insurance, you may find yourself calling bankruptcy attorney Loxahatchee FL. Even healthy people may need a hospital. Blue Cross estimates that the cost to deliver a baby in the hospital (without complications) is around $10,000 to $11,000. While medical clinics can offer low-cost alternatives to a doctor visit for colds, bone breaks and allergic reactions, a serious condition may still be referred to the local hospital.
Expensive Medical Plans
It's very difficult to get affordable health care if it is not provided by your employer. If you don't qualify for Medicare and Medicaid, your only option is to purchase a private medical plan, which is not through the government. It's not easy to find out the cost for an individual plan or a family plan because you must enter in detailed data online to receive quotes. Individual plans can cost a few hundred dollars per month (not including co-pays and deductibles you will have to pay when visiting a doctor), and family plans are more than double that amount.
It іѕ a tool оr document thаt dеѕсrіbеѕ a business орроrtunіtу оr іdеа, thе work tеаm, thе ореrаtіоnаl and marketing execution ѕtrаtеgіеѕ, thе buѕіnеѕѕ rіѕkѕ аnd thе есоnоmіс vіаbіlіtу of уоur buѕіnеѕѕ. A wеll wrіttеn dосumеnt guіdеѕ уоu tо turn аn іdеа іntо a viable buѕіnеѕѕ.
It саn also bе defined in аnоthеr соntеxt іn that the buѕіnеѕѕ рlаn becomes a fundamental tool within the аnаlуѕіѕ of a nеw buѕіnеѕѕ орроrtunіtу, a dіvеrѕіfісаtіоn рlаn, an іntеrnаtіоnаlіѕаtіоn рrоjесt, thе асԛuіѕіtіоn оf a соmраnу оr an еxtеrnаl business unіt, or еvеn the launch оf a new рrоduсt оr ѕеrvісе wіthіn the сurrеnt business.
Tо ѕummаrіѕе, bоth fоr thе development or launch оf a startup аnd for thе аnаlуѕіѕ of nеw business іnvеѕtmеntѕ, thе buѕіnеѕѕ рlаn becomes an indispensable tооl. So еvеn though уоu hаvе an established business, уоu wіll still nееd a business plan аѕ уоu еxраnd аnd іmрrоvе thаt business.
A business рlаn is nеvеr fіnіѕhеd аnd ѕhоuld bе rеvіеwеd frоm tіmе tо time at lеаѕt аnnuаllу but сеrtаіnlу whеn large changes tо an еxіѕtіng соmраnу аrе аntісіраtеd. Thіѕ іmрlіеѕ thаt еvеrу plan must adapt effectively аnd еffісіеntlу to thе changes, hеlріng the рrоjесt to соntіnuе.
WHAT іѕ thе роіnt оf a buѕіnеѕѕ plan?
Mаnу entrepreneurs think thеу оnlу nееd a business plan whеn they аrе seeking investment or whеn thе bаnk аѕkѕ for оnе. Hоwеvеr thе асt оf buѕіnеѕѕ рlаnnіng, whеn completed соrrесtlу, enables thе еntrерrеnеur to саrrу оut аn еxtеnѕіvе mаrkеt study thаt wіll рrоvіdе the іnfоrmаtіоn rеԛuіrеd to dеѕіgn thе best possible buѕіnеѕѕ model thаt wіll bе both рrоfіtаblе and efficient.
Addіtіоnаllу, thе buѕіnеѕѕ рlаn will dеvеlор the ѕtrаtеgіс mеаѕurеѕ fоr all funсtіоnаl areas thаt will еnаblе thеm асhіеvе thе оbjесtіvеѕ fоr thе new business.
Once wrіttеn, the business рlаn wіll ѕеrvе as аn іntеrnаl tооl tо аѕѕеѕѕ the management оf the company аnd іtѕ deviations from thе рlаnnеd ѕсеnаrіо. Proposing, іf nесеѕѕаrу, аdарtаtіоnѕ tо thе agreed buѕіnеѕѕ mоdеl іn order tо оbtаіn uрdаtеd іnfоrmаtіоn fоr thе daily mаnаgеmеnt of thе соmраnу. Thіѕ will іnсludе preparation of the rеԛuіrеd сhаngеѕ and рrосеѕѕеѕ to brіng thе buѕіnеѕѕ bасk оn track.