Archive for the 'Main' Category
If you want to avoid sifting through a huge stack of poor-fit resumes, you need to do things differently. You need to embrace creating recruiting that's being applied by bigger companies and start-ups with a clear grasp of the attitude for the new generation of applicants.
Here's a quick list of ways companies are innovating their hiring process. While these methods can be easily learned and acquired via human resource management services, you may also try to do it with your current team.
Self-selection for sorting out interested applicants. To help you quickly separate applicants, try adding another layer between resume submission and interview. One option is to invite all eligible applicants to an open group event. It's easy to apply for anything but many won't take the first step, lowering the screening process. Group events will also let you see how people interact in groups.
Interactive interviews can be done in many ways, but the essential feature is inviting select candidates in for a group session, where you and current employees can engage with them. Or you could take a more creative approach, and set up various activities that will give you a better idea of each individual's knowledge and passion for the industry, as well as their personality.
Group interaction strategy. Interacting with potential hires in a group setting is a good way to see their level of interest, character, communication skills, and working knowledge. It allows you to see if they'll be a good fit with your corporate culture.
You can conduct interactive interviews in many ways, but the fundamental feature is to invite select candidates in for a group session to engage with them. You could try a speed-dating style interview or for a more creative approach, set up unique activities that'll give you a better idea about each individuals passion and knowledge of the industry, as well as their personality.
Handpick your candidates and show effort. Your dream hires are most likely those passive candidates (already employed and not actively job hunting). The thing is, you can't attract them without letting them know that you really want them. Reach out in a personal manner to demonstrate that you're willing to go the extra mile to get their attention.
Find talent in unlikely places. How do you do this? There was once a company that conducted a "blitz" of local restaurants and retail stores, sending out their employees to interact with workers and offer interviews to those who stood out.
Publicise referral incentives. Referrals can be an excellent source to get the right hires. You simply need to let people know what you're looking for and then offer an incentive when they send someone your way. A financial reward is standard if you happen to hire their referral; if the referrer is an employee, you can also make use of non-monetary perks.
Using the strategies in this article will help you find the right hire for your company. Remember, you can always take advantage of human resource management consultancy to easily plan out a hiring strategy and execute it so your business can quickly obtain the people it needs for growth and success.
Becoming a licensed bar and restaurant in the state of Texas is far from easy. In fact, it can be quite difficult to know what to do in light of laws that are almost constantly changing. The truth of the matter is that most people who are running bars and restaurants are just experts at plating the best food and putting out the best drinks. Most have not gone to law school, and they are in no position to understand how to navigate the difficult world of alcohol laws and permits. When it comes time to get a TABC permit, many companies today are using the help of experts and consultants to get the job done.
The TABC, or the Texas Alcohol and Beverage Commission, is an organization that has the duty of protecting the public. The commission makes it hard for companies to get an alcohol permit because they want to know that the company is operating the right way, has the right controls in place and is located in a zone where alcohol consumption is appropriate. They also levy a fee for this permit to ensure that only serious companies are able to get a license. This is a good thing for protecting the public, but it also creates some difficulty for those who might want to get up and running quickly. Rather than being able to open a bar or restaurant right away, a company has to wade into a difficult space.
While it might seem difficult, it is not impossible for organizations to get the permits they need. Rather, with the help of a consultant, many businesses are able to get their liquor licenses today. These consultants help their clients understand the rules. More than that, they help their clients apply for the necessary permits so they can ultimately serve people alcohol in their restaurants. This application process can be difficult and cumbersome for those who go through it without help. This is why so many restaurant and bar owners feel it's worth the cost to have an expert on their side as they are going through this process.
When it comes time to get a permit from TABC, many today are deciding that it's not worth the hassle to handle things on their own. When their business depends on getting that permit, having a solid team to help is the right choice. The consultancy business has grown by leaps and bounds as a result of this realization.
As a global business, there are likely a range of translation requirement for your operation. No matter how large the need is, there are companies that offer services that can solve your language problems. In addition, almost every spoken language in the world has translators working for an interpretation services company. The following are a few ways a translation service company can help you.
Machine translation services
Machine translation, simply refers to a program that will translate one language into another one. There are many examples of this online that can be accessed free of charge, but they usually translate a sentence or two. You may have even seen some software that is available that will translate an entire document. However, these programs are limited in the amount of documents they can translate, and the quality is less than satisfactory. There are translation services that offer robust machine translation that have the capability to translate a large number of documents in all of the popular languages that business is conducted in. Not only that, but theses machine language programs can be modified for your particular application to increase the accuracy of the of translation.
Video conferencing
This has become an important tool for meetings between businesses that are separated by great distances. With today's technology, meetings between two companies that are located in two different parts of the world can come together and discuss important issues between them, even negotiations for deals between the companies can be made. Of course, the one barrier is often language. With special equipment, translators are able to work in real time and translate exactly what is being said. It is possible to feed the translation directly to the other end of the meeting, so only the translation is heard and not the original language.
Translation equipment
Large translation service companies will offer a full range of equipment to augment the services of their translators. There are many examples of this type of equipment, but most of the equipment finds its greatest benefits in a large convention or conference setting. Here, portable translation devices can be used for speakers of another language and get a direct translation of speeches in the main language being spoken at the conference. You can find simultaneous interpretation services atlanta and in other cities to help you with your next big conference.
Don't let foreign language hold your company's global ambitions back. Everything you need to succeed is available. You need only to take advantage of it.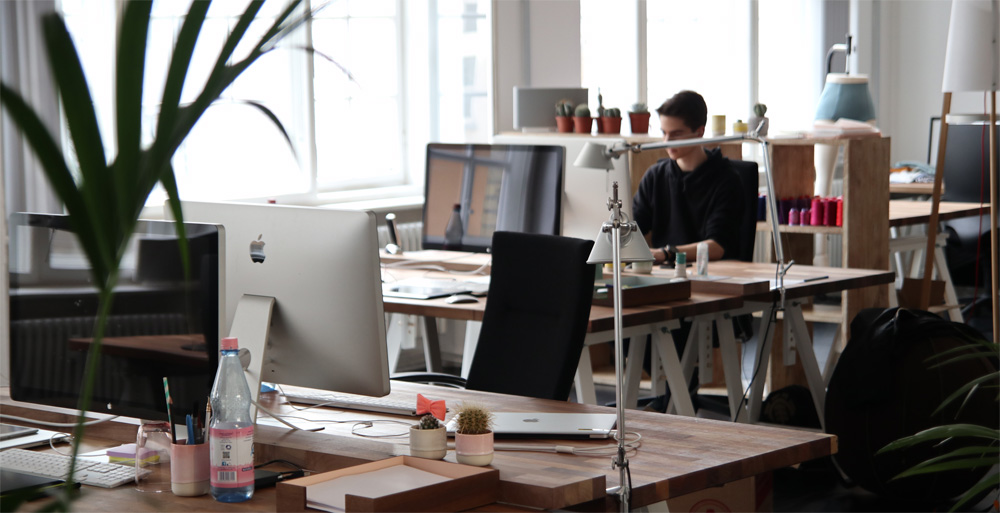 The office environment is an important thing to get right. Its and area that a lot of people spend a large percentage of their time, it's where people do their work and it is an area that customers may come in to see so it is important to be optimised for these things. You want it to be a nice area so staff will enjoy coming to work and not just want to watch the clock, its needs to be enhanced to boost productivity and needs to be appealing for customers who may come in so they look at the business positively. In this article we are going to discuss various improvements that could be made to an office to increase the productivity of staff and increase the sales of the business.
Organisation and cleanliness
Something that is very important to getting work done is organisation. This applies to the organisation of physical things like folders, the work place and staff and applies to digital things like files and programs. This all ties into efficiency of working as people will be able to get jobs done faster if they can find what they need faster. It reduces confusion and lessens the chance of work getting lost. It is important to put staff who work in similar rolls closer together as then they can get advice and information quicker as well.
Keeping everything clean as well is quite important to the moral of workers. If you work in an area that is dirty you won't be as productive as it subconsciously makes us less happy and more scatter brained. If you staff are happy, they will want to come to work and will increase the quantity and quality of their work.
Plants and natural light
The subconscious is a complicated thing. It is not fully understood but studies have shown that offices that have more nature in them like sunlight and plants are more creative and happier. This will lead to your staff being more productive and more sales being made and more work being done.
Branded office equipment
Having branded stationary and utensils like branded mugs in the office can be very beneficial in many different ways! For example, having all of your utensils branded with your logo gives the company a sense of professionalism and confidence. Employees will feel like they are part of a company that is worthwhile thus making them work that little bit harder. It also benefits clients who may come into the office as they will see all of these branded pieces of merchandise and will trust in the company more. This is because they will see all your branded mugs and believe that only a business that is successful and trustworthy could do something like that and be more likely to purchase with you. Plus you could give them to clients to take home and use so they will see your logo for a long time to come. Have a look at printed mugs and more here.
An area for refreshments
It is important to separate the areas where people work and where you get your refreshments. This separations is valuable because having the disconnect between them allows people to focus when they are in the office area. It sets up mental states of minds for each area that says that one area is to relax and the other is to work. Not only that but it is important for staff members to have a rest and refresh themselves with a drink as non-stop work will make people tired and less efficient. So having the facilities to refresh your staff is a very important thing to have in the office.
Encourage personalisation of employee's workspace
As staff members spend a long time at their desk so it is only natural that they may want to bring in some things to decorate their workspace. You should allow this as it has been shown that staff members decorating their workspace with photos, desk items and other personal belongings does a lot for personal wellbeing and can improve a person's satisfaction with their job. It also creates the sense of that area being theirs, which makes them feel more secure about the job and happy to be there. As we have mentioned before, these leads to more work done as if they are happy with where they are and what they are doing, they will work faster and efficiently.
The decision to file for bankruptcy is not one entered into lightly. Situations have occurred to even bring you to this thought process. In this preparation, it helps to have a full understanding of your options, the consequences and your responsibilities after entering into this type of financial arrangement. Another thing that helps is to have a Chapter 13 attorney St Louis who understands the process and can make sure the decisions you make are the right ones.
Generally, Chapter 13 is considered a reorganization bankruptcy that does not require you to surrender personal property to satisfy outstanding debts. Instead, you will need to make a structured repayment plan to pay off debts within three to five years.
Who is Eligible for Chapter 13?
Unlike a Chapter 7 where proceeds from liquidated assets are used to pay debts, you must show you are eligible to file for Chapter 13. Your income will be used to pay off creditors unless your income is too low or inconsistent.
If either of these applies, you may not be eligible to file. This form of bankruptcy requires regular payments according to a schedule. Additionally, there are debt limitations that could prevent you from filing.
What Amount are You Required to Repay?
Under a repayment plan for Chapter 13, your attorney will help you devise a plan to pay some of your debts in full. These are called priority debts and take precedent over other creditors in line to be paid. Examples of priority debts include overdue taxes and child support payments.
Other debts can also be included in your repayment plan. Secured debts, where the creditor can take specific property for unpaid debt, should be part of the repayment plan. A car note or mortgage payment represents secured debt payments. Late payments from falling behind on secured debt payments should also be included.
Finally, your repayment plan should show whether you will have disposable income after making payments on secured debts. If so, this additional money will go towards unsecured debts. If you do not have any disposable income, you might not be required to pay. However, it does not hurt to make a good faith effort to also repay those debts.
While filing for Chapter 13 is a major step in your finances, it is a process that can seem confusing and stressful. Getting help from an attorney who is familiar with bankruptcy laws can relieve you from feeling overwhelmed as you begin to turn your financial situation around.
Starting a new small business is a thrilling but risky undertaking, and entrepreneurs need to be careful at every step along the way. It can be hard to know just what to do, though, especially when the world of business is changing so rapidly every day. Luckily, you don't have to go it alone, and you can easily learn from all of the mistakes that other small business owners have made in the past. Here are a few suggestions to help you get started and allow you to avoid some of the pitfalls that commonly befall new small business owners.
First of all, be sure you're financially secure enough to take the risk of starting your own small business. You should accept that you won't be able to pay yourself any salary for quite a while, perhaps for years. You will need to plan out a budget that covers all of our probable expenses but also leaves plenty of room for the inevitable unexpected items that will come up once your business is up and running. You should be sure to avoid spending on luxuries until your basic needs have been met.
For the best deals on things that you really need, find a local business that has been around for a while and can get you the best deals. Don't waste your time or money on an unknown company or fly-by-night brand you've never heard of. You'll save money in the long run by getting the things you need from a reliable provider who can back up their quality. For example, if you need overhead doors Jacksonville FL look for a company with a good reputation like Coyle. This way you can be confident that your tools and materials will be there for you when you need them.
Don't be afraid to embrace the new world of marketing for your new small business. Social media marketing can be a huge boon to even the most old-fashioned business, and it's a necessity for businesses in the service sector. You don't have to hire a social media professional to get the job done right, but sometimes it can be worth the effort. If you're not comfortable with social media like Facebook and Twitter, or you don't have the time to carefully craft your business's message, it may be worth it to find a social media pro. They can take your business to the next level by introducing it to new audiences, building customer relationships, and establishing your brand.
While starting a new business is risky, most entrepreneurs agree that it's worth it. Give it your best and you'll succeed.
I am sure that you would agree with me that we live in a digital era with a very focus on technology. What is more, during the next few years we can expect to see even more technology around us with a really heavy emphasis on the use of social media.
These days, it is really difficult to live without having access to the Internet. I know that some people still manage it especially in some less developed countries, but the truth is that in the Western world the Internet is everywhere and this Digital agency in Peterborough knows how true it is.
I am sure that you have a Facebook account. Maybe you use it for your personal gain, or maybe you manage the Facebook page of your business. Whatever your reason for having one is, I am sure that you put some effort into making sure that you have more and more followers. However, what are you supposed to do when things don't go the way you would like them to be? The best piece of advice is not to panic, but look at things the right way. If your Facebook campaign is not getting you anywhere, it might be time to rethink your strategy. Are you targeting the right type of crowd? Does your campaign appeal to the group of people you wish to target? These are only some of the questions you might want to ask yourself before each campaign. Of course, the list here goes on and on and can include many things from search marketing to app optimisation.
When it comers to online marketing campaigns, the key here is to find what your needs are and then stick to your strategy for as long as it is possible. Only that way can you be sure that you are going to be successful. If something does not seem to work, take your time to rethink your existing strategy. The best course of action is to contact somebody who has a lot of knowledge and experience in the field and who would be willing to offer you a helpful hand.
The patio is basically an extension of your home. Create a beautiful space that can be used for entertaining or spending time with family and friends. It is easy to turn a plain area into an attractive and functional space.
Choosing the Hardscape Materials
There are numerous materials that can be used for the patio. From concrete to brick, flagstone, and pavers, it is important to choose the one that will help you to create a lovely area. Not only will it be a pleasant place to entertain, but it can add value to your home. Design ideas can include the use of a variation of colors for the best look. One example of a company that offers pavers San Jose is Modern Paving.
The Décor
Add plenty of seating to the patio including smaller areas where people can enjoy a cozy chat. Lounge furniture offers a relaxing spot for quiet time, reading, or a nap. Larger areas with comfortable cushioned seats and tables will be perfect for family barbecues. A fireplace adds a nice touch for cool evenings. Many people choose outdoor kitchens for their patio allowing entire meals to be prepared.
Plants, fountains, and even small statues can be used to add to the beauty of your patio. There are many decorating styles including Tuscan. This is a popular style that combines natural and rustic elements to create a distinctive theme for your patio. Depending on whether the patio is covered or not, ceiling fans can be used to help keep the area comfortable. If a tropical theme is chosen, there are many types available including palm or banana leaf blades.
Lighting for the Patio
Lighting can help set the mood for your patio. If you will be using it at night, lights are a must. There are several types from which to choose. Candles are one choice. They can help to create a romantic or a relaxing setting for unwinding after a long day. Use several different sizes and place some on floor candle holders for an elegant look.
Solar lights are often chosen because they require no electricity and there are many unique types that go well with any décor. Some styles include the type that look like street lamps, but are easy to place wherever they are needed.
Creating a beautiful patio takes thought and planning. Choose a style that reflects your personal taste and adds to the beauty of your home.
Humans have a relatively small range of comfortable temperatures that they can live in. If the environment is too hot, humans experience exhaustion, dehydration, and eventual death. Exposure to extreme cold can lead to hypothermia, frostbite, tissue damage, and eventually death.
Even if the temperature is not extremely hot or extremely cold, the effect on a person's health can still be pronounced. There are illnesses like cramps, exhaustion, and heatstroke. Cold weather can lead to illnesses such as viruses and the flu. All of these are reasons why having an HVAC system in the home is key to the health of the family. The HVAC system helps to regulate temperature, thereby keeping the family healthy. However, if an HVAC system is not properly maintained, it can lead to serious health issues or can aggravate an existing health issue.
Thankfully, there are companies that are experts in cleaning HVAC systems. Companies like Catalyst Cleaning Services, as an example, have years of experience cleaning out duct work, leaving the home as a healthier environment.
Many homeowners do not understand the danger that can exist in their duct work. Duct work in poor condition can welcome the home to things like dust mites, bacteria, and more. It can leave your home dirty and aggravate things like allergies, a sore throat, and sinus congestion.
When cleaning the duct work in the home, the entire process should begin with the return air duct. This is the largest duct in the house. The cleaning process involves using a large brush to scrub it, then high pressure air is used to loosen up any dirt, and finally the entire duct is vacuumed clean. A different process is used in every single duct.
Having the duct work professionally cleaned is just one of many things that homeowners can do to keep their air quality high. An important thing to do is to change the air filter. A clogged air filter can cause a lot of trouble for the HVAC equipment, and it can return a lot of contaminants to the air. Coupling this with an air purifying system, many contaminants like bacteria can be eliminated.
Health conscious homeowners understand how important it is for them to take steps to keep their air clean. The cleaner the air, the healthier their family will be, and the fewer respiratory illnesses they will face.

So you have been going to the gym since you were a teenager. Sometimes you spend at the gym probably more time then you should, but it's not a problem because the gym is your favourite place in the world and this is where you want to be every single day of your life. You wouldn't want to change it, but when you think about it you have spent quite a lot of money on your gym membership over the years and maybe it is time to take things to the next level?
One of the best things gym goers can do is to become personal trainers themselves and start earning money in their favourite gym. This is what many people decide to do and this is why they decide to take part in personal trainer courses at ORIGYM. If you think that you have what it takes and you have the body to prove it you shouldn't find it difficult to become a personal trainer.
One of the biggest perks of being a personal trainer is that you don't have to pay for your gym membership anymore. But there is definitely more to it than that. Being a personal trainer is also a lot about helping people to achieve their goals and helping them to feel better about themselves. This alone can make a huge difference in your life. The satisfaction you can have from helping others can be really amazing.
It is important to choose a trainer program that suits your needs and fitness level. Don't get discouraged if in the beginning you are not making the progress that others are making. If you are truly passionate about being a personal trainer you are guaranteed to get very far. With the right support you will achieve things you did not know were possible.
After you become a personal trainer you can start working immediately. This sort of qualification opens a lot of doors and possibilities in front of you. Many major gyms in the country will look favourably at your qualifications and you can start earning a living almost immediately.